Hotel Descriptions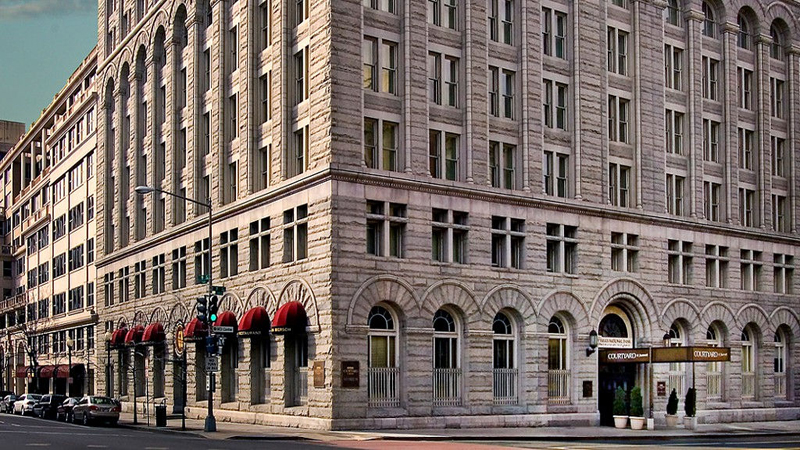 Courtyard Washington Downtown Convention Center
Amenity Chart Area Map
901 L Street NW
Washington, DC 20001
Rates:
Single: $309 Double: $309 Dbl/Dbl: $309
Triple: $329 Quad: $349


Distance to Conv. Center: 0.5 Miles

Poised in bustling downtown Washington, D.C, the Courtyard Washington Convention Center hotel stands as a stately testament to time. Once an architecturally splendid bank, the hotel now serves as a haven of relaxation. Choose from 188 stunning guest rooms and suites at this downtown hotel; combining elegance, comfort, and functionality. Business travelers will enjoy quick and convenient access to the capital's top federal agencies and the Washington Convention Center. Vacationers can explore the surrounding world-renowned museums, historic attractions, popular shopping districts, and an array of palate enticing restaurants. The Courtyard Washington Convention Center is a celebrated Marriott hotel offering unparalleled amenities, services, and accommodations necessary for a memorable visit to our nations capitol.

Relaxation awaits you in your guests room with plush bedding, crisp linens, thick mattresses, custom comforters, and fluffy pillows. Rooms offer a work desk, ergonomic chair, two-line speakerphone, voicemail. Enjoy complimentary high-speed Internet access, cable TV, and in-room movies. Take advantage of our in room complimentary refrigerators to store late night snacks, or visit the Sundry/Convenient store on the first level.
---
Hyatt Regency Washington On Capitol Hill
Amenity Chart Area Map
400 New Jersey Ave NW
Washington, DC 20001
Rates:
Single: $341 Double: $341 Dbl/Dbl: $341
Triple: $366 Quad: $391


Distance to Conv. Center: 1.3 Miles

Discover this historic city from Hyatt Regency Washington on Capitol Hill. Enjoy easy access to all the attractions of our nation's capital from this ideal location in the heart of this popular downtown neighborhood.

Within their inviting accommodations, you'll find gracious service, deluxe amenities, extensive business facilities - among the largest in the city - plush Grand BedsTM and tempting dining.
---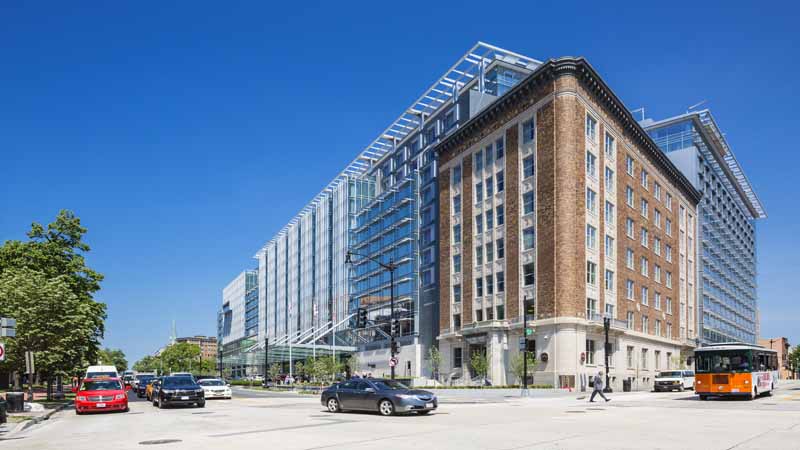 Marriott Marquis Washington D.C.
Amenity Chart Area Map
901 Massachusetts Ave Northwest
Washington, DC 20001
Rates:
Single: $341 Double: $341 Dbl/Dbl: $341
Triple: $341 Quad: $341


Distance to Conv. Center: 0.3 Miles

The Marriott Marquis Washington, DC is designed to reflect its surroundings and complement the adjacent Walter E. Washington Convention Center. Conveniently located near Penn Quarter, City Center DC, and the Verizon Center, this hotel makes it easy to explore the city's best attractions. Guests enjoy direct access to the Convention Center via an underground concourse connection. This Washington, DC convention center hotel is poised to be the city's next great social hub. Be among the first to experience the vibrant Marriott Marquis Washington, DC, a distinctive addition to the Nation's Capital.
---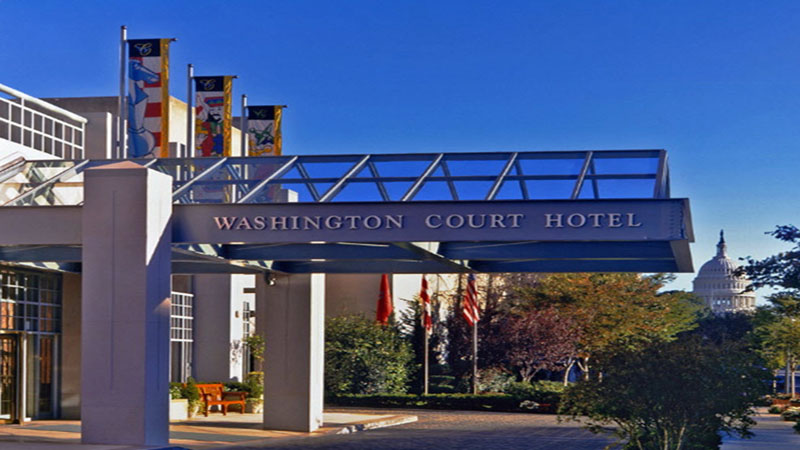 Rates:
Single: $334 Double: $334 Dbl/Dbl: $334
Triple: $354 Quad: $374


Distance to Conv. Center: 0.9 Miles

A sophisticated, independent Capitol Hill hotel located in downtown Washington DC, the Washington Court Hotel offers the ultimate in modern design and hospitality. Boasting a central location near Union Station and Capitol Hill. Festooned with stylish newly-remodeled spaces, this 3.5-star Washington Court Hotel lies at the center of DC. Its premier site is steps from main attractions and the Union Station. Guests can mingle in their trendy bar and enjoy a game of billiard.
---
Rates:
Single: $319 Double: $319 Dbl/Dbl: $319
Triple: $339 Quad: $359


Distance to Conv. Center: 0.6 Miles

The Westin Washington, D.C. City Center is a vibrant D.C. hotel that captures Washington, D.C.'s dynamic spirit. This central location makes it easy to enjoy the top sites in Washington, DC.

This urban retreat features the Westin brand's signature services and amenities, designed to transform every aspect of a stay into a revitalizing experience. Sleep well in the Heavenly Bed®, refresh in the Heavenly Bath® and enjoy thoughtful touches like ergonomic desk chairs, designed with your comfort in mind. Reenergize in the WestinWORKOUT® Fitness Studio or relax at their restaurant Fringetree.
---